US software specialist Camect have shared Red CCTV's success story around the world.
The Silcan Valley based tech giants provide Red CCTV with highly advanced Artificial Intelligence software components.
Their systems allow Red CCTV's environmentally friendly CCTV Systems to reduce false alarms and improve efficiency by identifying objects picked up by our camera systems.
This highly sophisticated AI is able to immediately recognising animals, humans, vehicles and assessing whether they pose a potential risk
They wanted to share our joint story with some of their customers around the world and interviewed Technical Director Ashley Cardno.
Bespoke Security Solutions
David Small, Security Product Champion at Camect, said: "Red CCTV are leading providers of bespoke security solutions, including deployable CCTV towers combined with leading AI from Camect.
"Camect AI has proven to reduce false alarms on thousands of sites across the globe by 100% leaving monitoring station operators twiddling their thumbs, and potential thieves shaking in their boots!
"Red CCTV, based in the UK, uses a range of unique systems such as High Definition and thermal cameras with low voltage, hybrid, fuel cell green power.
"We had a chance to interview Ashley Cardno from Red CCTV to understand more about their remote site deployment and how they use Camect."
Ashley, said: "We use Camect as our first line of defence utilising of object detection, built in analytics within our camera and recording devices aren't accurate enough for us to rely on them and on testing produced lots of unwanted alarms.
"Camect gives us accurate alarms with few to no unwanted alarms, in fact we haven't as of yet had an unwanted alarm from a Camect."
Read Interview
Click on the link below to read Ashley's interview with Camect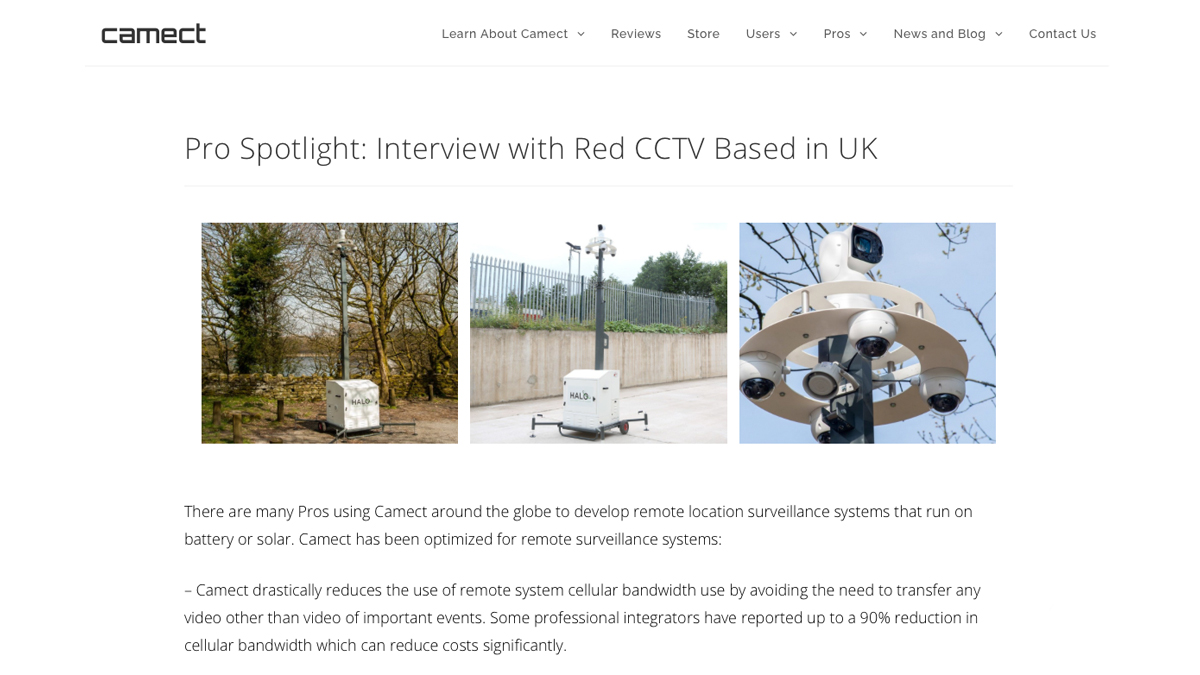 * To find out how Red CCTV can help reduce your site carbon emissions or to discuss our range of environmentally friendly CCTV security systems click this link to talk to our team.
* To discuss marketing or PR opportunities contact Onside PR via this link