It is a literal toss of a coin which will shape the rest of your life.
For the lucky ones, the result is negative, and the reward is a journey on into the normality of adulthood.
For those not so lucky, those people on the wrong side of that 50/50 flip, it means accepting and adapting to the very slow onset of Huntington's Disease.
Huntington's Disease is particularly cruel. It isn't anyones fault. It isn't something sufferers could have avoided, or a result of something they have, or have not done.
It's all about a specific gene we all carry – and it's either faulty or it's not.
It is hereditary and carries a 50/50 chance of it being passed down to future generations and it's currently impossible to detect until testing can be carried out towards the end of a child's teenage years.
For Emma Fletcher, that virtual flip fell on the wrong side and her tests results confirmed she has Huntington's Disease.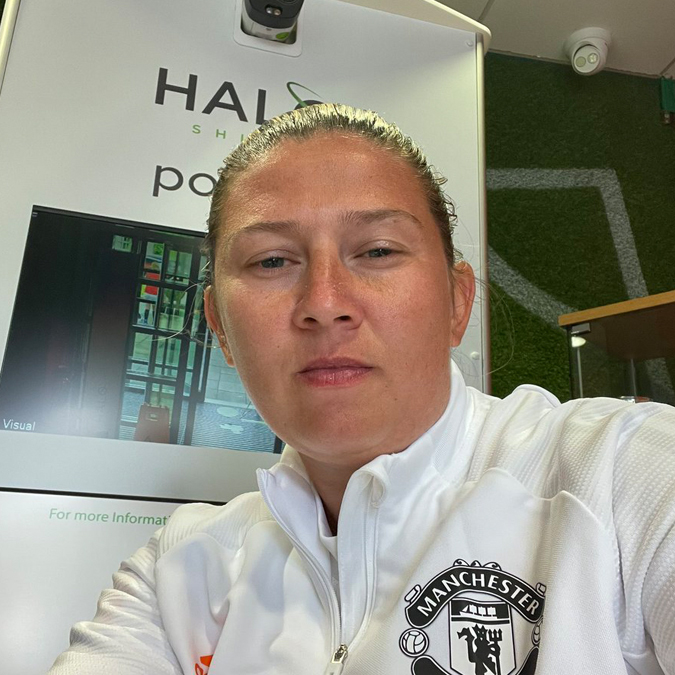 But rather than dwell on the negatives, she and dedicated husband Billy, have vowed to fight the condition head-on and live for the day and they are able to largely ignore the condition.
Fund Research
Emma Fletcher is the Head Of Girls Football at Manchester United and is determined to do everything she can to help future generations by raising as much money as possible to fund research into the disease.
In fact, he Under 11 squad were honoured by the Huntington's Disease Association's 'Digital Volunteer Award' for their efforts raising £7,350 during lockdown.
They set off to walk, run or cycle 200 miles, that's 15 miles per player which was estimated to be the distance between each of their homes.
The girls smashed their target, clocking up a staggering 462 miles – more than double their original target.
Manchester to Blackpool
Now, it's Billy's turn. This Sunday, Billy and a team of 30 friends will join the Manchester to Blackpool bike ride in the hope of raising around £5k.
Billy, said: "The Huntington Disease Association do some incredible work supporting families and researching ways to hopefully one day find a solution or cure.
"We try to support them where we can because their work is crucial and unfortunately, it must continue until a cure can be found.
"Just £150 pays for that eight hours of specialists support for families who may be just learning they are affected and would be lost without that help.
"It is particularly cruel in that, it develops quite slowly and may seem almost inconceivable at first as a person may have no symptoms.
"For example, if we hadn't decided to be public about this, you would not realise that Emma has it. She is fit and otherwise healthy and no-one would know.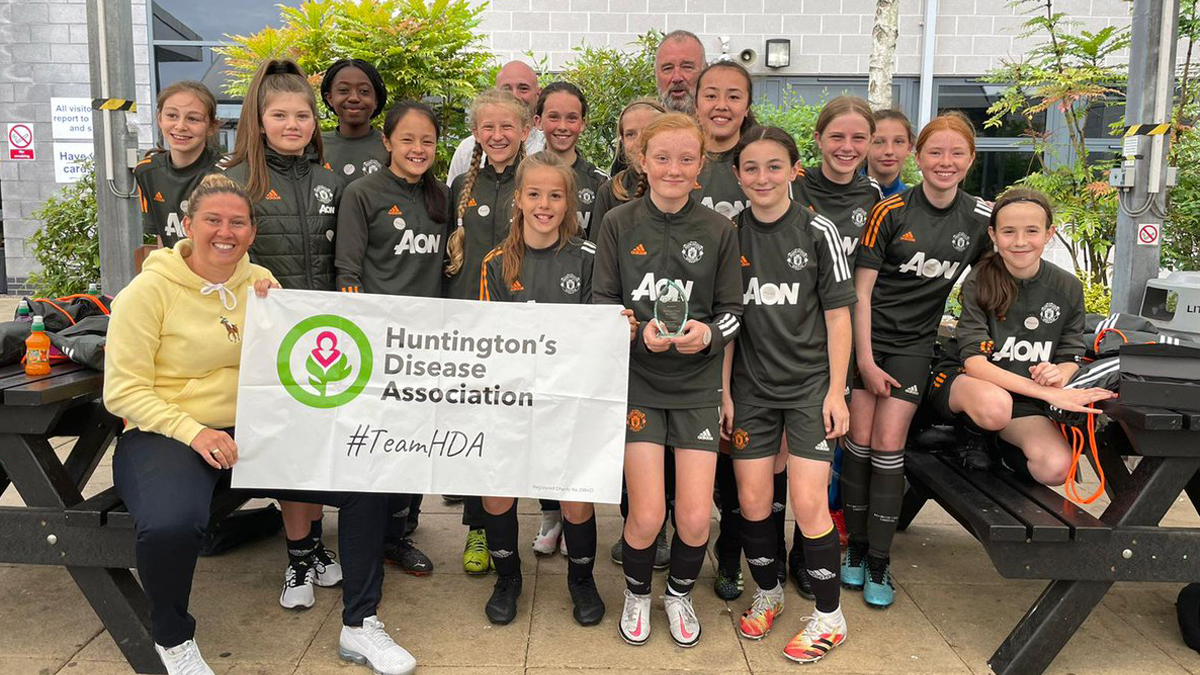 "We have no idea what will or won't happen, or rather when, and instead we choose to carry on and enjoy our life as best we can and hope an answer may be found.
"We had been hoping that the Roche and Ionis Generation-HD1 and Wave Life Science's Precision-HD trials would be a success but they were halted and now we all just have to wait.
"We won't ever give up and will continue to raise awareness and as much money as we can to carry the fight and opportunities like the Manchester to Blackpool ride give us that opportunity.
"I'd also like to say a big thank you to the whole Manchester United family, who have supported Emma and the Huntington Disease Association.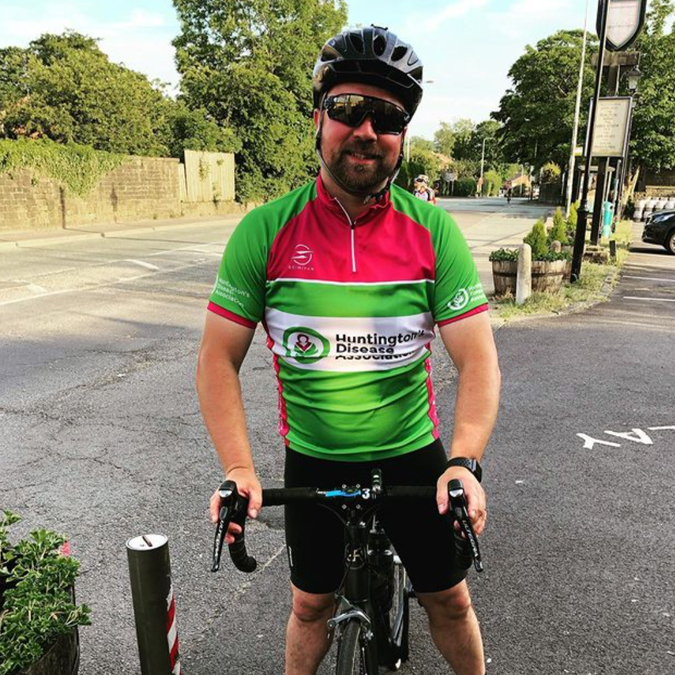 "John Eades the former Manchester United Operations Director started the ball rolling and John Shiels, MBE, the CEO of the Manchester United Foundation has been a rock for us all, they are with us every step of the way."
Hereditary
Huntington's Disease is hereditary. It is caused by a fault to a a single specific gene, attached to a chromosome – or strand of DNA – in the body.
Chromosome Number Four produces an important protein called huntingtin, which is needed by nerve cells in the brail and for the body's development before birth.
If it is faulty, the protein it produces repeats certain genetic sequences too many times which, in turn, damage neutrons in areas of the brain.
"Symptoms and the effects on each person vary," Billy explained, "but I guess you would describe it as a mash up of Parkinsons and MS.
"As we understand, the symptoms are initially almost undetectable but as a person grows older the brain slows and it becomes more noticeable.
"We try not to think about that and we live in the now, we enjoy holidays and nice things and we treasure every minute of our life.
Red CCTV
"We just have to hope that one day this is something families do not have to go through and that they are able to find a cure to correct the fault."
Red CCTV are proud to be backing the group of cyclists and will sponsor the team, with Managing Director Rob Kennedy promising to join the mammoth fundraising effort.
"It's a great cause and we are delighted to support Billy and Emma and the incredible work they do for such an inspirational cause," Rob explained.
"It's a cruel condition and we all have to hope that our brilliant scientists and medical marvels can find a way to cure it as soon as possible. 
"We hope that people will be inspired by their story, Emma and Billy do a wonderful job raising awareness and funds and we hope our supporters and friends will give generously to support their efforts.
"I'm told some of Billy's cycling friends are planning to cycle back as well from Blackpool but I can assure I won't be. I will be pleased just to get there in one piece!"
Engineer Billy, who has worked with Red CCTV for a number of years, has completed the gruelling course before and would have ridden last year, until Covid forced the event to be suspended.
He will join friends from the Crompton Clarion Cycling Club for the ride who will help the less 'experienced' riders along the route, which includes some challenging conditions.
The 60-mile route from Media City in Salford is a hugely popular event and takes riders through some beautiful scenery via Leigh, Hough Hall, Preston and Warton and onto a great finish on the South Promenade in Blackpool.
To donate to this magnificent cause please click the Just Giving Link – CLICK THIS LINK
Read Emma's Story
This is an interview Emma gave to the Huntington's Disease Association. Click the image below and read her story, posted in May 2020 to highlight Awareness Month.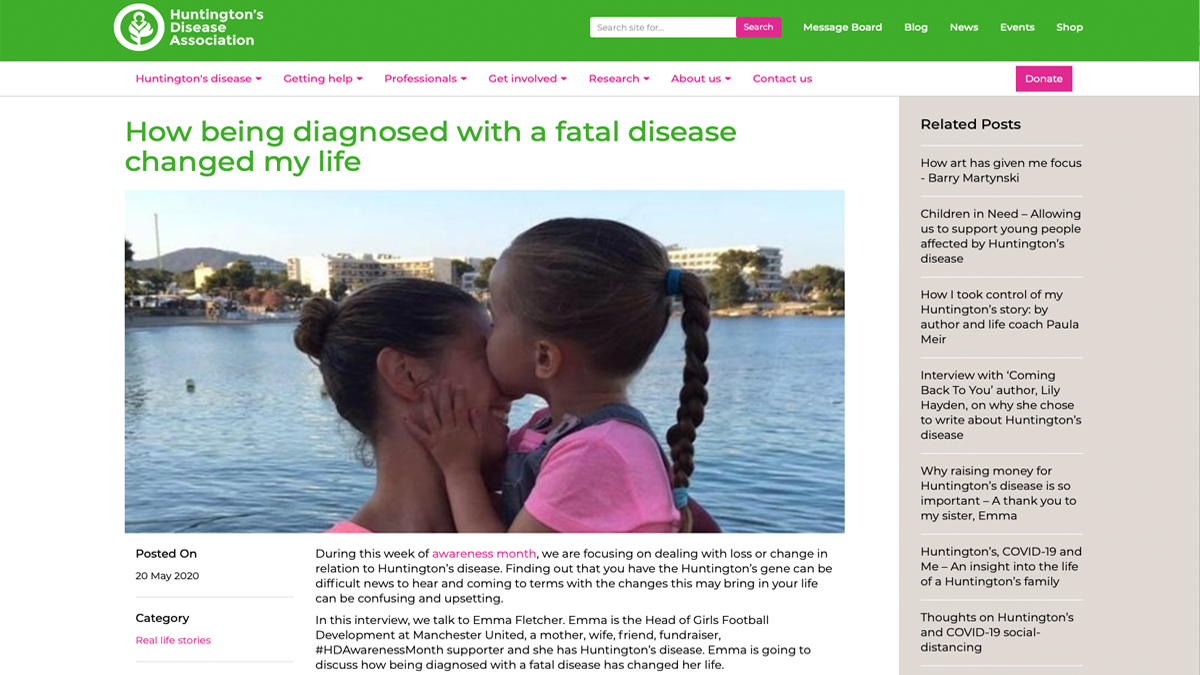 View Gallery